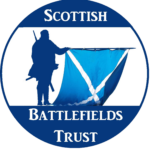 The Dunbar 1650 Project is run by the Scottish Battlefields Trust, a registered charity dedicated to the protection and interpretation of Scotland's battlefield heritage. The project is headed by the Trust's founding director (and Dunbar resident) Dr Arran Johnston, with a small team of local volunteers. You can join the Scottish Battlefields Trust and help support our work. Find out more on the website:
To contact us regarding the Battle of Dunbar, email: [email protected]
---
The project has been supported by a grant from Historic Environment Scotland. They maintain an inventory of battlefields designated as being of national significance. Dunbar 1650 is one of two designated battlefields in Dunbar, the other being the first battle of the Wars of Independence which was fought in 1296.
Historic Scotland's information on Dunbar's two battlefields can be found here:
The fate of the Scottish prisoners taken at Dunbar has been the subject of international interest, not least because of the discovery of a mass grave in Durham. The Scottish Battlefields Trust's Dunbar 1650 Project has worked closely with Durham University to help share this significant story.
Durham University's "Scottish Soldiers Project": blog
We have also been delighted to build a relationship with the Scottish Prisoners of War Society, a network of those descended from those prisoners who went to establish new lives in the aftermath of their captivity and indentured service.
Scottish Prisoners of War Society website
The Dunbar 1650 Project has also been supported by the Cromwell Association, who installed the memorial stone on the battlefield to mark the tercentenary in 1950.
Our commemorative re-enactments in 2016 and 2019 have been supported by members of various re-enactment societies, including the Earl of Loudoun's Regiment of the English Civil War Society, and the Scots Brigade of the Sealed Knot.
Recommended Reading
The most recent study of the Battle of Dunbar and its wider military context is:
"Essential Agony: the Battle of Dunbar" by Dr Arran Johnston
A comprehensive treatment of the fate of the prisoners of war can be found in:
"Lost Lives, New Voices", by the team at Durham University.